Looking for some spooky recipes for Halloween? We put together our top 5 favorite Halloween Baking Recipes that are sure to be a hit at your monster bash. Check them out and tell us your favorite!
1. Spider S'mores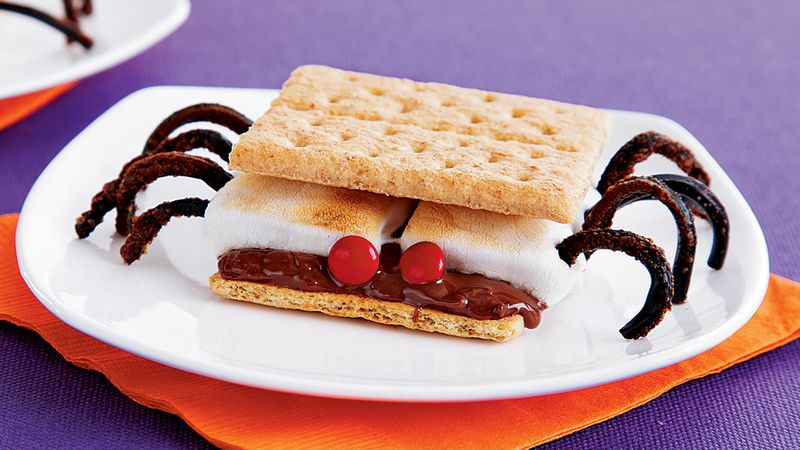 (Picture and Recipe by Pillsbury)
Ingredients:
Directions:
Set oven control to broil. On ungreased cookie sheet, place 12 graham cracker squares.
Top each with 1 candy bar half and 2 marshmallows. Broil 45 to 60 seconds or until marshmallows are toasted and chocolate is softened. Press 4 licorice pieces into 2 opposite sides of each soft marshmallow.
2. Mummy Chex Cereal Bars
(Recipe and Picture by Chex)
Ingredients:
Directions:
Spray 13×9-inch (3-quart) baking dish or pan with cooking spray.
In large microwavable bowl, microwave butter uncovered on High about 45 seconds or until melted. Add marshmallows; toss to coat. Microwave 1 to 1 1/2 minutes longer. Stir until marshmallows are completely melted and mixture is well blended.
Add cereal; mix well. Using waxed paper or spatula sprayed with cooking spray, press mixture evenly into baking dish. Cool 15 minutes. For bars, cut into 6 rows by 3 rows.
Meanwhile, line work surface with waxed paper. In small microwavable bowl, microwave candy melts as directed on package to melt. Dip each bar and decorate as desired, using photo as a guide. Place decorated bars on waxed paper about 30 minutes or until set.
3. Loaded Reese's Cookie Bars
(Recipe and Picture by Hershey's)
Ingredients:
Directions:
Heat oven to 350°F. Spray bottom and sides of 9-inch square pan with cooking spray.
In large bowl, mix cookie mix, cocoa, softened butter, water and egg with spoon until soft dough forms. Stir in 1/2 cup of the peanut butter chips and the sprinkles.
Using a metal spatula, evenly spread dough in pan. Sprinkle candies over top.
Bake 22 to 26 minutes or until set around edges. Cool 30 minutes.
In small microwavable bowl, microwave remaining 2 tablespoons peanut butter chips uncovered on Medium (50%) 1 minute; stir. Continue to microwave in 10-second increments until chips can be stirred smooth. Spoon melted chips into small resealable freezer bag; partially seal bag. Cut off small corner of bag; squeeze to drizzle over top of bar. Let stand about 1 hour or until drizzle is set. Cut into 4 rows by 4 rows. Store in airtight container at room temperature.
4. Reese's Pieces Peanut Butter Cookies
(Recipe and Picture by Hershey's)
Ingredients:
1/2 cup of softened butter
1/2 cup of granulated sugar
1/2 cup of light brown sugar
1/2 cup of Reese's Creamy Peanut Butter
1 egg
1/2 teaspoon of vanilla extract
1 cup of all-purpose flour
1/2 teaspoon of baking soda
1/4 teaspoon of salt
1 cup of Reese's Pieces Candy
Directions:
Heat oven to 350°F.
Beat butter, granulated sugar, brown sugar, peanut butter, egg and vanilla in large bowl until fluffy. Stir together flour, baking soda and salt; gradually add to butter mixture, beating until well blended. Stir in candies. Drop by heaping teaspoons onto ungreased cookie sheet.
Bake 10 to 12 minutes or until edges are lightly browned; remove from oven. Cool slightly; remove from pan to wire rack. Cool completely. Makes about 30 cookies.
5. Scary Monster Cupcakes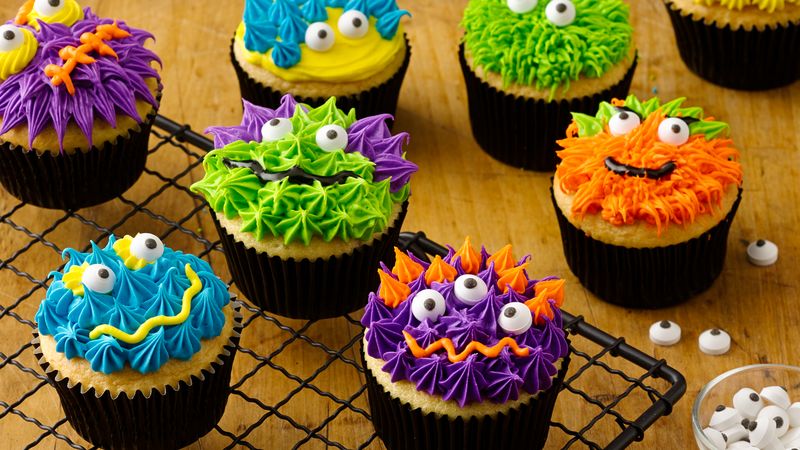 (Recipe and Picture by Betty Crocker)
Ingredients:
1 box of Betty Crocker™ Super Moist™ Yellow Cake Mix
2 containers of Betty Crocker™ Rich & Creamy Vanilla Frosting
1 box of Gel Food Colors
1 package of Candy Eyeballs
1 box of of decorating gel in black, purple, green or more!
1 box of Icing Decorating Tips to pipe frosting.
Directions:
Heat oven to 375°F. Place paper baking cup in each of 24 regular-size muffin cups. Make and bake cake mix as directed on box for cupcakes. Cool 10 minutes; remove from pans to cooling racks. Cool completely, about 30 minutes.
Divide frosting into five separate small bowls. Stir 1 teaspoon desired color gel food color into each bowl. Spoon each color frosting into separate decorating bag fitted with desired tip. Pipe frosting on cupcakes to look like monster's fur.

Decorate each cupcake as desired using candy eyeballs and decorating gel.
Follow us on social for more fun recipes, deals and more!