Buying cleaning products in bulk for your dorm, suite, or apartment can help save you time and money! We've gathered a list of our top 5 cleaning products that will have your place sparkling fast, so that you can stay on-the-go on campus.
1. Method All-Purpose Pink Grapefruit Surface Cleaner
A strong all-purpose cleaner is anessential for dorm life. Method Home's Pink Grapefruit Surface Cleaner is perfect for small spaces because it is non-toxic, naturally derived and consists of biodegradable ingredients. Get a fresh scent while fighting dirt and bacteria all while remaining safe for people, pets and the planet!
2. Tide Plus Febreze Detergent Pods
Whether the laundry room is in your apartment, down the hall or downstairs, laundry is no-hassle with Tide Pods. Simply grab one and pop it in the washing machine for all-day freshness. Some of our favorite scents are Botanical Rain, Spring Meadow, and Ocean Mist. Pods are available in bags or tubs and also come in an Unscented option.
3. Mrs. Meyer's Clean Day Dish Soap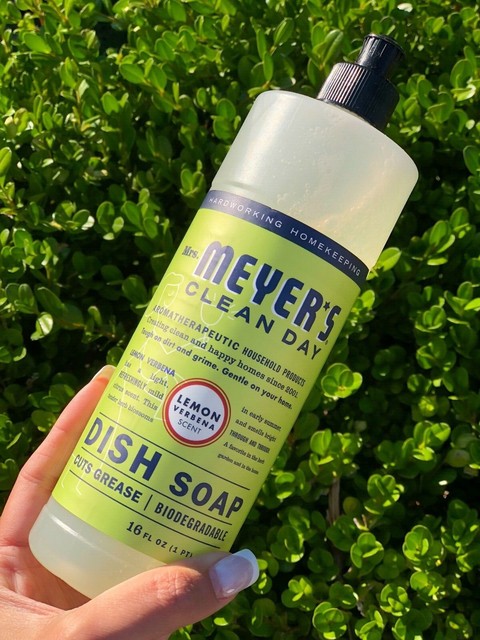 Scents so pleasant you'll actually want to do the dishes! Inspired by the planet, Mrs. Meyer's Clean Day products are created in an Earth-Friendly way. Free of parabens, phosphates, and phthalates, biodegradable and not tested on animals, this brand offers you a natural way of cleaning. Dish soaps in scents like Lavender, Geranium, Basil, and Lemon Verbena will have your whole place smelling fresh and clean.
4. Glad Recycling Bags
Recycling time! Keep your plastic out of the ocean and start recycling with Glad's Tall Kitchen Recycling Bags. These can help you save the planet and even get some cash by bringing your bottles and cans to a recycling center. They also come with strong drawstrings that make transporting easy!
5. Swiffer 360 Duster Extender
Dusting can be done in record time thanks to Swiffer! Swiffer's 360 Duster Extender traps 3X more dust than a feather duster while getting into hard-to-reach grooves. Begin with our Starter Kit and then get Refills as needed.